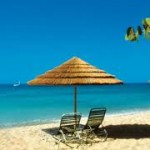 A packing list is to be designed for any vacation. It is no exception when planning a beach vacation. If you miss any of the essential items in the packing list, you may end up in ruining your own vacation. So, be careful and consider what you need to add to the packing list when traveling for a beach.
One of the primary essentials in a packing list for beach vacation is the sunscreen. It protects you from several health hassles which may arise due to unprotected sun exposure.
Also include sunglasses which look cool. As the glare of the sun is also more at beach, you can use sunglasses to stay protected from it. Keep an extra reserve pair as well.
Carry minimum two swimsuits per person so that one is always dry.
Beach umbrellas are the other important things to be included in a packing list for beach vacation. Take a large beach umbrella which provides you shelter and also shade from sun or wind in an open beach. It also acts as a landmark and helps you in finding your family members and friends in the wide open area.
Clothing essential for beach vacations should be selected according to the location of the beach and its weather conditions.
You can also include beach related gear like surf board, water skiing equipment, etc. in the packing list. However, they are also available everywhere and you can even buy them at the vacation spot.
Do not forget to keep camera to snap the funny and memorable moments along the beach side.
Also keep toiletries and first aid requirements.
Prepare a checklist initially when planning a beach vacation. Include all these things in it to avoid any hassles at the vacation place.