Toys are not only meant for providing entertainment to children. They also act as a source of education. Kids learn various things through playing. Certain toys which therefore help kids in learning something are termed as educational toys.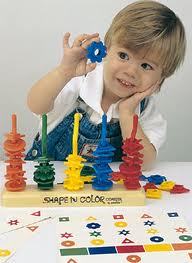 Toys like bikes, wagons, puzzles, shovels, and boxes are considered to develop the physical or muscle strength of kids. Children learn the sensation of touch, smell, taste, and sight through musical instruments, bubbles, water toys, play dough, and sand toys. Creative and intellectual development of children can be seen when they play with clay, crayons, books, paper, and paints.
Children learn coordination and balance when they practice climbing to the top of the jungle gym or the climbing frames. They also develop the muscle control that is essential at some instances. Toys also promote children to create and use their imaginations. They can also improve their self confidence. Once they finish a puzzle, blow a bubble, or ride a trike, they develop a sense of power. This further creates interest in them to do or play more with the toys, thereby improving their self confidence as well as intellectual thinking.
Kids can also learn social and interaction skills with certain toys. Build up playing toys, playhouses, and other toys that require more than one player, improves their interaction or communication skills. They can easily cope up and feel free in social gatherings or situations.
Therefore educational toys develop the physical abilities, mental abilities, judgment, reasoning, and imagination of kids. Certain TV programs, electronic games, video games, and computer online games are educational for kids even for those who are as young as 2 or 3 years old.