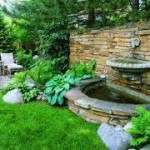 Everyone wishes to have a beautiful home. Any kind of older homes can be renovated by various processes. Home improvement not only includes addition or improvement of your main home building, but it also includes the enhancement of your garden or backyard. Different ways of landscaping in the garden and near your conservatories makes your home look much attractive. Adding a garden pond in your backyard is one of the ways of landscaping that many people prefer today. It provides a place for relaxation and enjoyment. However, there are certain things you need to consider before building a backyard garden pond. Here are some of them.
Location
Considering the location of the pond in your backyard is very much important. You need to select the location in such a way that it is close to your main house or any other garden building like a conservatory. Also, consider the slope of the land and location of the pond to prevent water run-off. If you arrange a pond in low-lying areas, there is a chance that lawn fertilizers and other chemicals may wash into the pond harming the fish and plants.
Pond Size
You need to decide the size of the pond based on your purpose. If you wish to have fish and other aquatic plants in the pond, in order to maintain biological balance, you need to have a larger pond. Otherwise you can opt for a smaller one. You ought to consider the pond depth to check that the pond is most frozen in the winter seasons.
Cost
Determine the costs associated with building and maintenance of the pond. As the set-up of the pond includes digging the pond, using different types of liners and filters, proper plumbing and so on, you need to be aware of the costs of these processes.
Planning
A proper planning on the design of the pond reduces your maintenance costs. This is because if you do not build it according to a proper plan, you need to make certain changes to it again that involves much higher costs.
Pond Style and Design
You need to select the style of your pond that matches with your property. You can add waterfalls and rocks near the pond to make its style natural. You can arrange the ponds in various designs, in different shapes.
These are the major factors to be considered before building a garden pond. However, you should also check the electrical equipment, water and drainage, testing and maintenance of the pond in advance.