It is necessary to provide general things in every hotel room, to make the customers feel comfortable. They range from hotel towels to hotel bedding. There are some basic supplies which are to be provided by the hotel authorities, such as: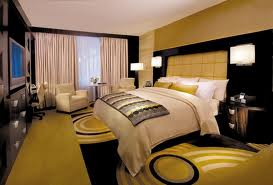 Bedding: It is necessary to provide a proper bedding to the guests in a hotel room. It should be comfortable to them. This should include a mattress, mattress pads, clean sheets, pillows, comforter, blankets and so on. Hotel bedding should be clean, or else it may leave customers dissatisfied.
Electronics: Now a days it is important to provide, some electronic things like Television. It can be impossible to the guest to go through a day without going online and watching TV. Such things keep guests entertained.
Toiletries: Toothbrushes, toothpaste, shaver, towels, hand soap, shampoos, conditioners and body wash and more are included in this list.
Furniture: Making the guests feel at home is the main objective of the good hotels. Some items like decorative lamps, pictures, a matching color scheme, tasteful linen colors, decorative rug, desk, small office table and chairs and more, make them feel comfortable.
Safe: Providing safety to guests is the most important thing. So ensure that hotel room is safe and it has good locking system. Having proper closing doors and placing the curtains for windows is important in every room in the hotel in order to provide best safety to the guests.
These are the basic supplies which are provided by the hotel authorities in order to make their guests satisfied.